Anaconda Empowers Education with New EduBlocks Release Featuring Classrooms, Mobile Support, and More!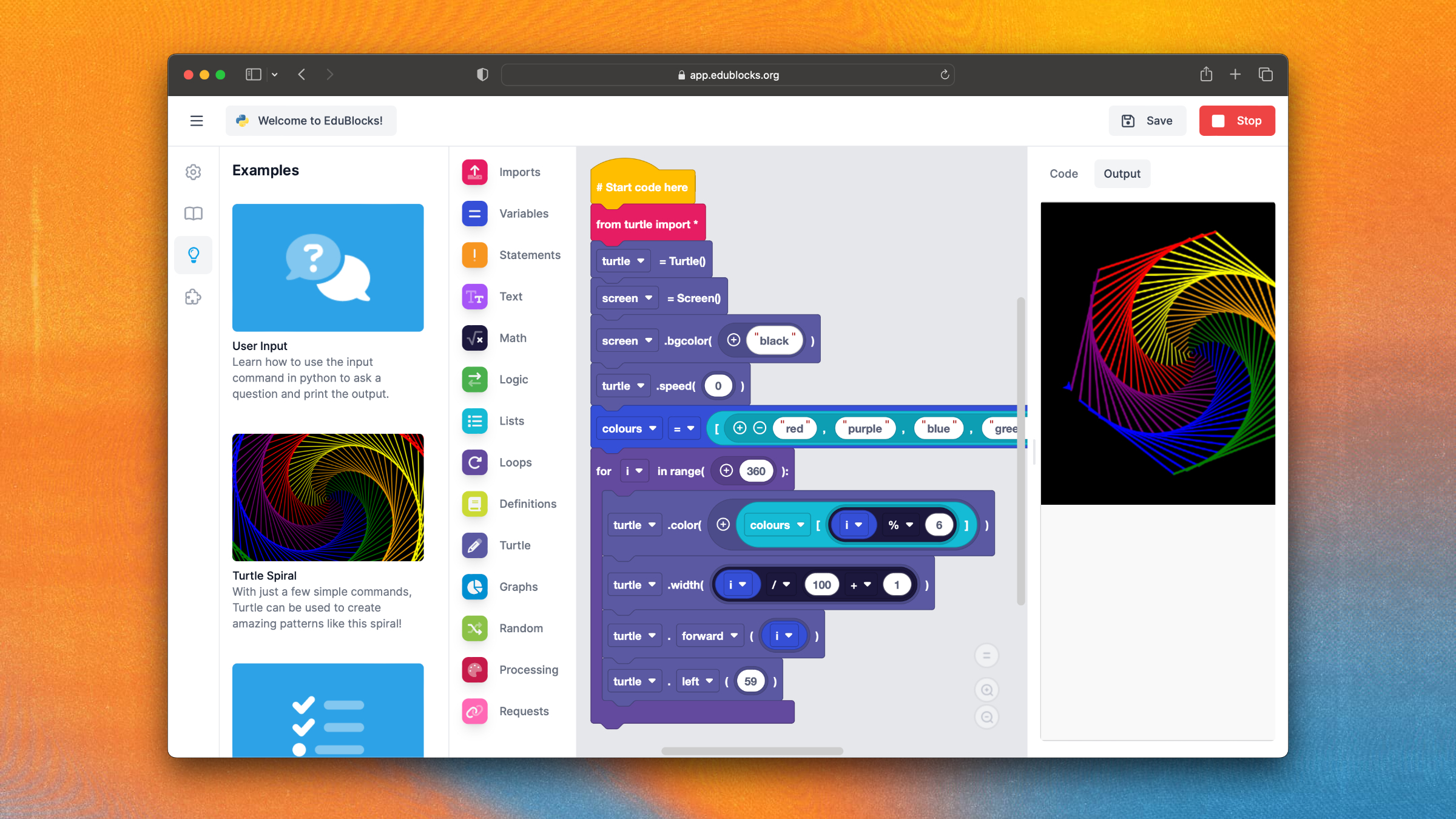 We're thrilled to announce the launch of the all-new EduBlocks! After years of meticulous development, we are proud to present the first new release under the Anaconda family, designed to take EduBlocks to new heights.
We have collaborated closely with our valued users to enhance the EduBlocks experience, incorporating your feedback to bring you exciting new features such as Classrooms and mobile browser support, as well as improvements such as the new user interface.
You can get started with the latest EduBlocks release by visiting https://app.edublocks.org.
Key Features
New User Interface
We've reimagined the user interface while retaining its familiar layout, making EduBlocks even more user friendly and accessible:
The new user interface extends across the entire app, including the editor, where we've introduced a sidebar offering quick access to project settings, tutorials, examples, and extensions. Also, you can now customize the code/blocks window size to your preference.
Dark mode, a popular feature of professional code editors, has been integrated into EduBlocks. Simply navigate to the all-new settings page to enable this feature.
Introducing Classrooms
That's right! After a trial of Classrooms in EduBlocks a few years ago, we're excited to officially release this popular feature, developed in collaboration with educators.
Classrooms enable you to easily create assignments for students, track their progress, and grade their work directly within the EduBlocks editor, offering increased interactivity between students and teachers, or practitioners and managers/instructors.
Learn how to leverage the full potential of Classrooms in EduBlocks:
Improvements to Blocks
Blocks are at the core of the EduBlocks experience, and we're excited to introduce some new blocks and also improve a core feature.
Adding parameters or items to a list in Python-based modes has been made simpler and more intuitive with our new parameter interface. You can now effortlessly add or remove parameters using the +/- icons on a block.
We've also introduced a "text" category in Python mode, offering a wealth of new blocks for working with text.
Mobile Browser Support
We understand the importance of mobile accessibility, and with this release, we are pleased to offer an optimized mobile version of the homepage, projects page, and editor. The familiar layout of the desktop version ensures a seamless experience on the go. Stay tuned for expanded mobile support in future EduBlocks updates.
micro:bit Simulator
Having to download your code onto your micro:bit to see if it works can be time consuming. Thanks to the work of the Micro:bit Educational Foundation, we've incorporated a simulator to the micro:bit mode, which allows you to test all the features of micro:bit, including sensors, directly in your browser. This feature is especially beneficial for those who don't have access to micro:bit, as they can now use the micro:bit mode, too!
Example Projects
With the introduction of the sidebar within the EduBlocks editor, we've added a new example projects tab! Discover a plethora of projects that you can load into the editor with just a few clicks, providing a head start in exploring the capabilities of Python or HTML. Teachers can also utilize these example projects as starter code within the new Classrooms feature. More example projects are coming soon!
Extensions
The micro:bit mode has supported extensions for a while now, enabling users to utilize popular hardware accessories with EduBlocks. Extensions are an easy way to add extra blocks and capabilities into EduBlocks, and we're excited to bring this feature to all Python-based modes! Stay tuned for upcoming developer documentation on building extensions.
Check out our first extension within the Python mode: Machine Learning For Kids. This free tool enables you to create your own machine learning program and interact with it in Python.
Profiles
We are also adding another popular feature, Profiles, in this release of EduBlocks! Profiles serve as a centralized hub to host all the projects a user has published to the Showcase. You can even customize them by adding a bio. Profiles are discoverable through direct links that you can share with others, as well as through Showcase projects by clicking "View Profile."
At Anaconda, we're excited to renew our commitment to providing a free platform to empower students with coding and data literacy skills through all of these new features. We look forward to hearing what you think and we welcome your thoughts via the feedback tab, where you can submit and upvote ideas to help us develop our product roadmap. Happy coding!