AnacondaCON 2019 Day 3 Recap: The Need for Speed, "Delightful UX" in Dev Tools, LOTR Jokes and More.
2min
Everyone at Anaconda is still feeling the love AnacondaCON 2019. Day 3 wrapped up last Friday with one more day of talks and sessions, highlighted by some powerhouse keynotes. Let's get right to the good stuff:
Opening Talk: The Need For Speed — Joshua Patterson, Director of AI Infrastructure at NVIDIA
Patterson discussed the momentum building as GPU acceleration, the Cuda platform and Python are all coming together to solve ever-more-complex data science challenges. He also provided a brief overview of what to expect in the future from NVIDIA.
Keynote: How to Win Developer's Hearts with Productive Tools — Francois Chollet software engineer at Google AI The Father of Keras spoke about the critical importance of UX in creating tools for developers, which he called "the beating heart of tech." Developers who are happy and productive produce better code in greater quantity, but the often-clunky UX design lets them down. Chollet shared three rules for better UX design in dev tools, including one that earned cheers from attendees: "You should care about your users, all of the users, not just the smart users and/or yourself."
Talks and sessions continued through the morning and early afternoon, as the sun came out on a really stellar Austin spring day. But before attendees headed out to enjoy it, Anaconda had just a few more surprises up our sleeves.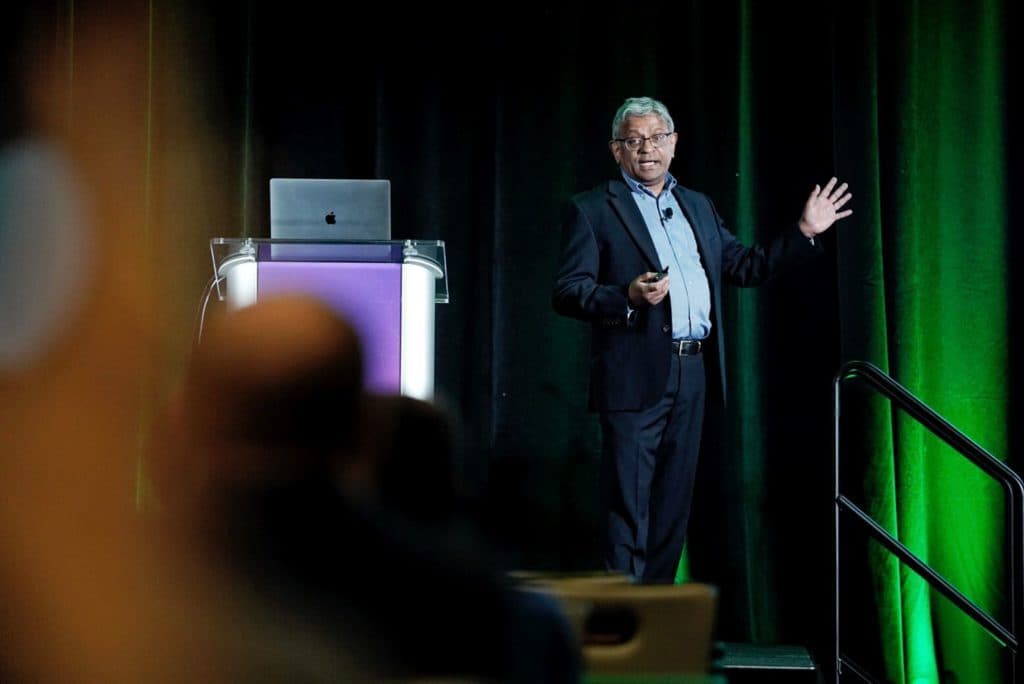 Anaconda Enterprise (AE) Roadmap — Krishnan Aghoramurthy, Vice President of Product Management and Product Marketing at Anaconda
These are exciting times for AE. Aghoramurthy went over the very recent release of Anaconda Enterprise 5.3, an upgrade focused on platform stability and reliability. Features and improvements include customizable static endpoints and a new notification center in the dashboard. Aghoramurthy then gave a sneak peek into plans to add two highly requested features — third-party Kubernetes support and the upcoming Fusion integration between Anaconda Enterprise and Microsoft Excel.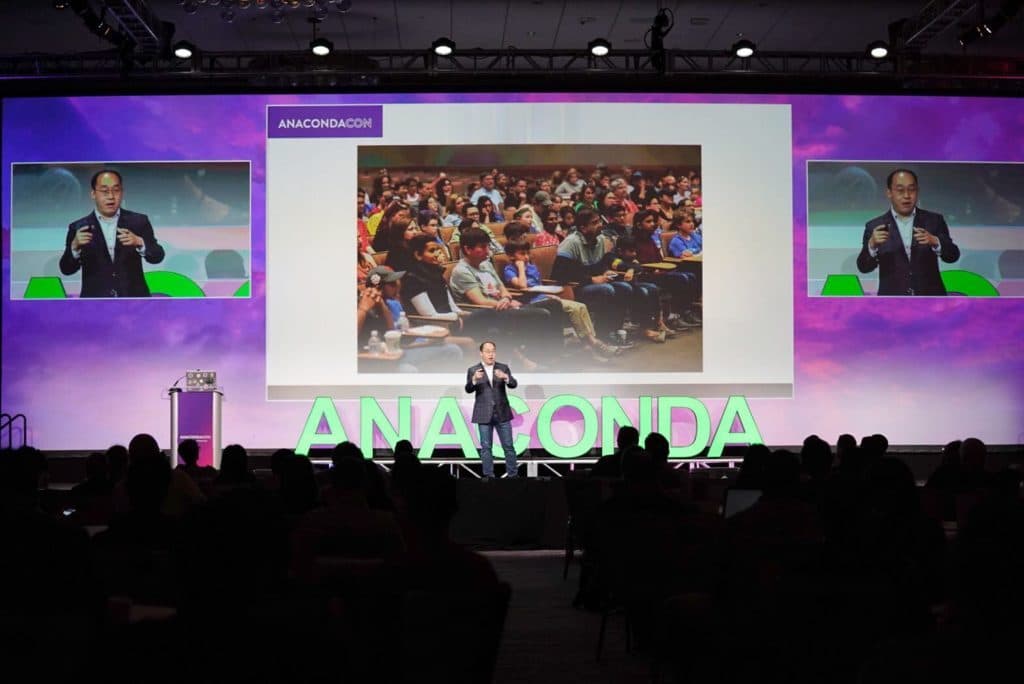 Closing Keynote: Peter Wang, Co-founder and CTO at Anaconda
AnacondaCON 2019's finale kicked off with a giveaway drawing, courtesy of Anaconda and NVIDIA. Peter Freeland of BuildGroup won a free NVIDIA RTX graphics card — congrats, Peter! Next up was a quick recap video of AnacondaCON 2019, featuring attendee stories about how they use Anaconda in their careers. Wang shared fascinating survey responses from attorneys, marketing managers, accountants and other professionals across all kinds of fields are now learning data science to do their jobs better. Finally, Wang wrapped everything up by talking about the special nature of the Anaconda community, dropping Lord of The Rings analogies and thanking everyone for being part of the journey.
Stay tuned for information for AnacondaCON 2020, including dates and location. We look forward to seeing you there!