Anaconda Assistant Launches to Bring Instant Data Analysis, Code Generation, and Insights to Users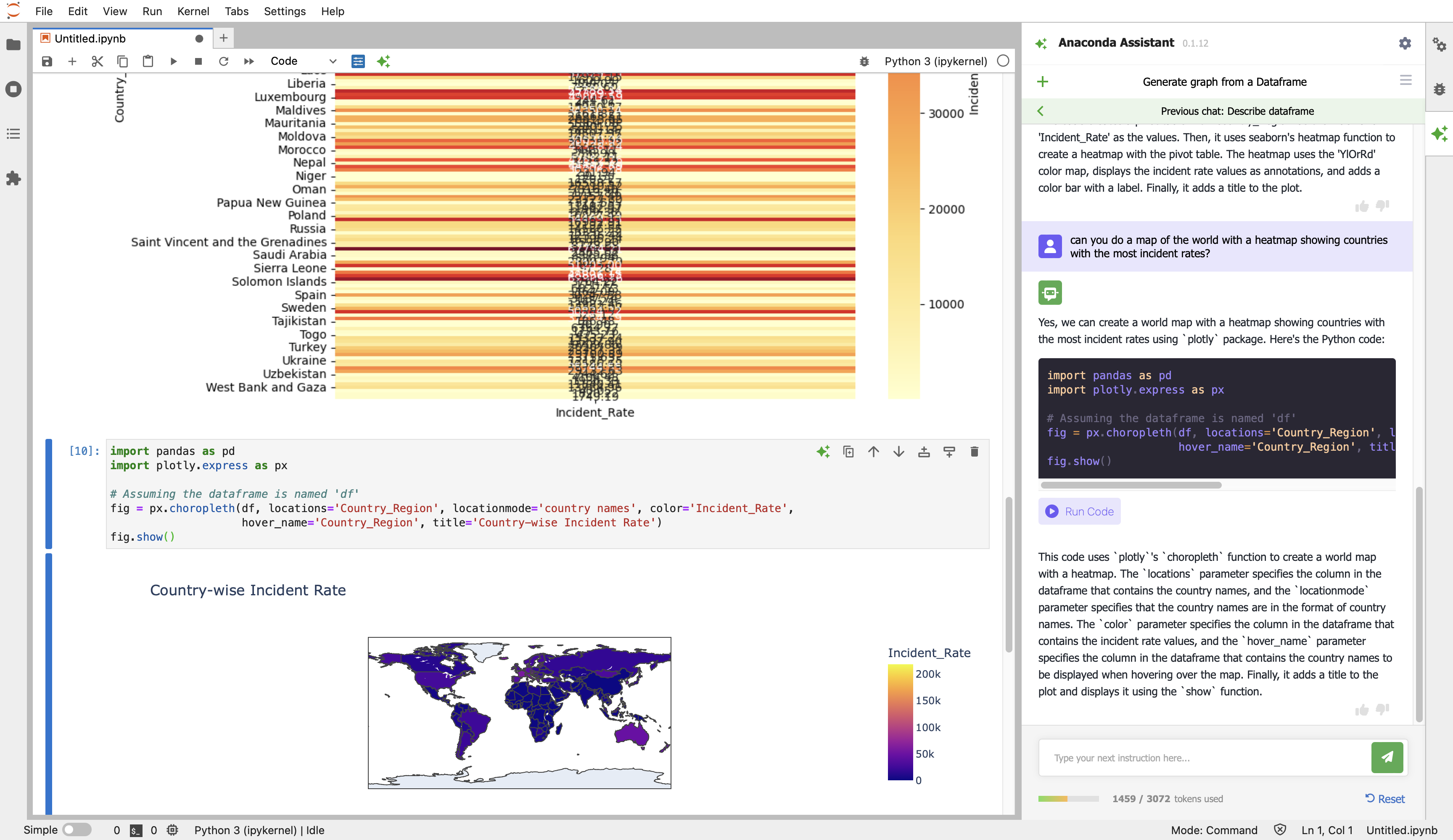 Join Private Preview
Anaconda is thrilled to announce the alpha release of Anaconda Assistant, a dynamic AI-powered tool designed to help data scientists, developers, and researchers excel in their work and uncover new breakthroughs. Anaconda Assistant provides a familiar chat-box interface and enhances the Jupyter Notebook coding experience by leveraging the latest in AI to instantly accomplish data tasks like generating plots, describing dataframes, generating code snippets, debugging errors, and asking follow-up questions.
During this alpha phase, we are seeking users of Anaconda cloud notebooks who are willing to test our AI tool and provide valuable feedback that will help us refine and improve the experience for all users. As an alpha participant, you will have the opportunity to explore and test new features and functionality before they become widely available. Additionally, participating users will contribute to the development of a tool that will make a significant impact in the world of data science and technology.
To participate in the private preview of Anaconda Assistant, you must be an existing Anaconda Notebooks user. If you aren't yet, you can sign up for a free account on Anaconda.cloud. After creating your account, visit the Anaconda Assistant early adopter sign-up page and fill in the required information. We will extend invitations on a rolling basis and notify the selected participants via email.
Key Features and Benefits of Anaconda Assistant
Anaconda Assistant comes packed with numerous advanced features that aim to enhance productivity and create a seamless work experience for users. The following are some of the most notable capabilities of the AI assistant:
Quick and easy conversations: Interact with state-of-the-art AI models; pose questions, ask for code examples, or clarify concepts directly within your notebook.
Generates code that runs in your notebook: Our AI assistant not only recommends code snippets but ensures that the provided code runs seamlessly within your Anaconda Notebook environment.
Code explanation, commenting, and improvement: Select a piece of code, and have the AI assistant explain its functionality, add comments to aid understanding, or suggest improvements for optimization.
Automated plotting code generation: The AI assistant can generate code for plotting data in dataframes, offering multiple plotting ideas to choose from and providing an engaging visual representation of your data.
Insightful data analysis: Anaconda Assistant identifies useful data within dataframes and offers insights into why that data might be significant for your project, helping you make informed decisions.
And more: These features are just the beginning; we're continuously working to expand the capabilities of Anaconda Assistant to cater to the evolving needs of data scientists, developers, and researchers.
Use Cases
Anaconda Assistant is designed to assist with various tasks across a wide range of domains. Here are some examples:
Analyze, visualize, and preprocess data more efficiently:
Generate plots and graphs with recommendations that can be generated for your data:
Continue existing conversations to get more interesting responses and specific plots:
Debug errors:
Fix your code:
Common Questions
What programming languages are supported?
The alpha version of Anaconda Assistant primarily supports Python, but we are planning to expand support to other languages in the future.
Is there a cost associated with joining the early adopter program?
Anaconda Assistant is free for all participants throughout the alpha phase. We anticipate continuing to offer access to the AI assistant as part of our Free plan, though limitations may apply.
How do I provide feedback during the alpha phase?
Use the buttons embedded within the assistant to provide positive or negative feedback, or the form we'll provide via email once you have been granted access to the program:
Conclusion
We are incredibly excited to invite our user community to participate in the private preview of Anaconda Assistant. We believe this powerful tool will transform the way data scientists, developers, and researchers work. We encourage all eligible individuals to sign up for the early adopter program and participate in shaping the future of AI-assisted development. Join us and be a part of the Anaconda Assistant revolution!